Study Shows Seasoned Authority Sites Rank in Top 5% on Alexa
Premium (Not Free) Video Tutorials
Free Video Tutorials & Free Tools
By: Wade Harvey
Summary:If you have tried all the SEO tactics and only received mediocre rankings, it is time for you to shift your attention from web promotion to producing quality research and content. This study shows that seasoned Authority Sites rank in top 5% of Alexa.
What is An Authority Site?
Dictionary.com defines "Authority" as follows:
Authority: Au-thor-i-ty [uh-thawr-i-tee] – noun:
1. An accepted source of expert information or advice: a noted authority on birds; a reference book often cited as an authority.
2. Power to influence or persuade resulting from knowledge or experience: political observers who acquire authority with age.
In internet terminology, an Authority Site is one that has a large empire of high-ranking pages linking back to it. Well-known examples include About.com, Wikipedia.org, and so on. These are sites that others look to (and link to) as experts in the field.
In this study, "Authority Site" simply refers to any site that has been promoted with Authority Site Tools available from Jack Humphrey.
Preliminary Study of 56 Randomly Selected Authority Sites
This study started by randomly selecting 56 sites that are being promoted with Authority Site tools. On average, these sites ranked better than 87% of all other sites monitored by Alexa (see chart).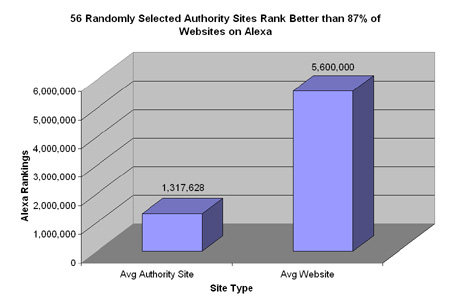 A Look at Seasoned Authority Sites
One problem with the preliminary study is that Alexa uses three months of data to calculate its rankings. However, many of the sites listed in the random sample were only a few weeks or months old. So even though weekly Alexa statistics indicated that these sites were ranking extremely high, the three month Alexa ranking was lower. To adjust for this problem, the original list of 56 sites was examined to see how many months of archived blogs existed for each site. Then, only sites that contained over 4 months of blog archives were analyzed. The chart below shows that these authority sites ranked in the top 5% on Alexa.

Note:
If you are not familiar with Alexa, please visit
www.alexa.com
and go to the traffic rankings section. Enter the url for any web site, and it will show where that site ranks within the 11.2 million sites that Alexa tracks. It will also provide a graph that shows a historical picture of traffic to that web site. Please use Alexa to verify the results of this study for yourself by looking up the traffic rankings for any sites that interest you or for any of the 56 randomly selected Authority sites listed below.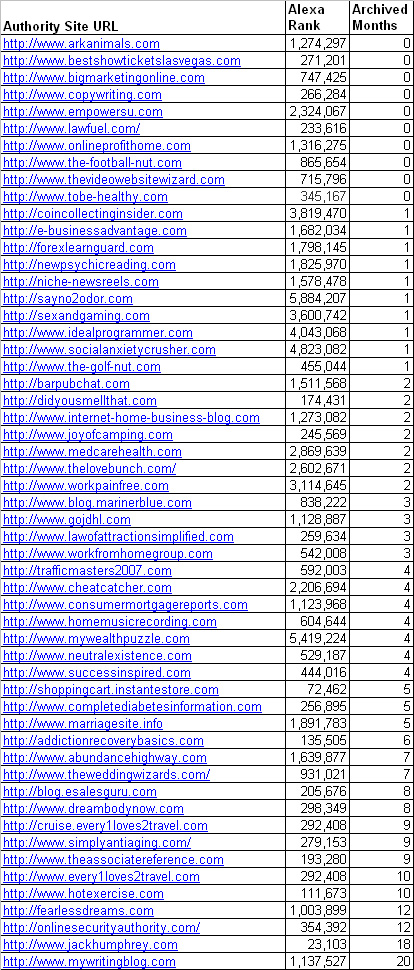 Content Management
Free 21-Page White Paper
Learn How To Build Authority Sites
http://contentdesk.co m/cmd.php?Clk=1998495
Click the above link to get your own Authority site!!!
Related posts:
Related posts brought to you by Yet Another Related Posts Plugin.