SharePoint Video Tutorials – 379 Hours of Premium Video Tutorials on SharePoint
Premium (Not Free) Video Tutorials
Free Video Tutorials & Free Tools
Here is a collection of over 379 hours of premium video tutorials on SharePoint by various Microsoft presenters and by Pluralsight. In order to view the Pluralsight videos, you need to become a member of Pluralsight.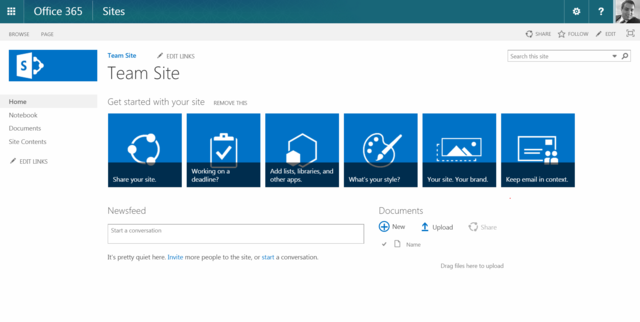 Background:SharePoint is a web application platform in the Microsoft Office server suite. It was first launched in 2001. SharePoint consists of various functions: intranet, extranet, content management, personal cloud, document management, enterprise social networking, web content management, enterprise search, business intelligence, workflow management, and an enterprise application store. SharePoint servers have traditionally been deployed for internal use in mid-size businesses and large departments alongside Microsoft Exchange, Skype for Business, and Office Web Apps. However, Microsoft's 'Office 365' software as a service offering (which includes a version of SharePoint) has led to increased usage of SharePoint in smaller organizations.
SharePoint Videos
| Series | Title | Date | Presenter | Min |
| --- | --- | --- | --- | --- |
| Build a Customized SharePoint Team Site Without Writing Any Code | Build a Customized SharePoint Team Site Without Writing Any Code | 6/21/2013 | Spike Xavier | 71 |
| Building SharePoint Apps as Single Page Apps with AngularJS | Building SharePoint Apps as Single Page Apps with AngularJS | 4/25/2014 | Andrew Connell | 217 |
| Configuring SharePoint 2013 Farm with PowerShell | Configuring SharePoint 2013 Farm with PowerShell | 1/21/2014 | Jeff Adkin | 276 |
| Configuring SharePoint 2013 for Apps | Configuring SharePoint 2013 for Apps | 2/4/2015 | Bill Kulterman | 129 |
| Configuring SharePoint 2013 for Business Intelligence | Configuring SharePoint 2013 for Business Intelligence | 4/30/2014 | Bill Kulterman | 281 |
| Creating Calculated Columns in SharePoint | Creating Calculated Columns in SharePoint | 4/3/2015 | Spike Xavier | 125 |
| Developing SharePoint 2013 Solutions with JavaScript | Developing SharePoint 2013 Solutions with JavaScript | 12/4/2013 | David Mann | 370 |
| Developing SharePoint 2013 Solutions with JavaScript – Part 2 | Developing SharePoint 2013 Solutions with JavaScript – Part 2 | 1/12/2015 | David Mann | 225 |
| Developing SharePoint 2013 Solutions with JavaScript – Part 3 | Developing SharePoint 2013 Solutions with JavaScript – Part 3 | 11/13/2015 | David Mann | 294 |
| Enabling Office 365 (70-347) SharePoint Online Site Collections | Enabling Office 365 (70-347) SharePoint Online Site Collections | 11/5/2015 | Jeff Adkin | 164 |
| Installing SharePoint 2013 with PowerShell | Installing SharePoint 2013 with PowerShell | 11/8/2013 | Jeff Adkin | 254 |
| Manage Office Data with SharePoint 2013 | Manage Office Data with SharePoint 2013 | 3/12/2014 | Bill Kulterman | 221 |
| Planning and Deploying Office Web Apps 2013 | Planning and Deploying Office Web Apps 2013 | 7/15/2015 | Vlad Catrinescu | 107 |
| SharePoint | Web Parts | 5/20/2008 | Robert L. Bogue | 60 |
| SharePoint | Data Lists | 5/21/2008 | Robert L. Bogue | 60 |
| SharePoint | Silverlight and SharePoint Server | 5/27/2008 | Andrew Connell | 60 |
| SharePoint | Using Event Handlers | 5/28/2008 | Andrew Connell | 60 |
| SharePoint | Page Branding | 6/3/2008 | Andrew Connell | 60 |
| SharePoint | Workflows | 6/4/2008 | Robert L. Bogue | 60 |
| SharePoint | Web Services | 6/10/2008 | Andrew Connell | 60 |
| SharePoint | Page Navigation | 6/11/2008 | Andrew Connell | 60 |
| SharePoint | User Management | 6/17/2008 | Robert L. Bogue | 60 |
| SharePoint | Custom Content Types | 6/18/2008 | Robert L. Bogue | 60 |
| SharePoint 2007 Developer Ramp-Up – Part 1 | SharePoint 2007 Developer Ramp-Up – Part 1 | 9/13/2012 | David Mann | 65 |
| SharePoint 2007 Developer Ramp-Up – Part 2 | SharePoint 2007 Developer Ramp-Up – Part 2 | 9/13/2012 | David Mann | 107 |
| SharePoint 2007 Developer Ramp-Up – Part 3 | SharePoint 2007 Developer Ramp-Up – Part 3 | 9/13/2012 | David Mann | 125 |
| SharePoint 2007 Developer Ramp-Up – Part 4 | SharePoint 2007 Developer Ramp-Up – Part 4 | 9/13/2012 | David Mann | 143 |
| SharePoint 2007 Developer Ramp-Up – Part 5 | SharePoint 2007 Developer Ramp-Up – Part 5 | 9/13/2012 | David Mann | 162 |
| SharePoint 2007 Developer Ramp-Up – Part 6 | SharePoint 2007 Developer Ramp-Up – Part 6 | 9/13/2012 | David Mann | 169 |
| SharePoint 2007 Developer Ramp-Up – Part 7 | SharePoint 2007 Developer Ramp-Up – Part 7 | 9/13/2012 | David Mann | 81 |
| SharePoint 2007 Developer Ramp-Up – Part 8 | SharePoint 2007 Developer Ramp-Up – Part 8 | 9/13/2012 | David Mann | 90 |
| SharePoint 2007 Features and Solutions by Example | SharePoint 2007 Features and Solutions by Example | 11/12/2009 | Dan Wahlin | 46 |
| SharePoint 2007 for Developers | SharePoint Server 2007 as a Development Platform | 4/13/2007 | Mike Benkovich | 60 |
| SharePoint 2007 for Developers | Introduction to SharePoint Designer 2007 | 4/16/2007 | Mike Benkovich | 60 |
| SharePoint 2007 for Developers | Site Conversion to Windows SharePoint Services | 5/4/2007 | Mike Benkovich | 60 |
| SharePoint 2007 for Developers | Windows SharePoint Services and Access 2007 | 4/30/2007 | Mike Benkovich | 60 |
| SharePoint 2007 for Developers | Workflow and Windows SharePoint Services | 5/11/2007 | Mike Benkovich | 61 |
| SharePoint 2007 for Developers | Windows SharePoint Services and Content Types | 5/18/2007 | Mike Benkovich | 54 |
| SharePoint 2007 for Developers | Windows SharePoint Services and Forms Services | 5/25/2007 | Mike Benkovich | 61 |
| SharePoint 2007 for Developers | MSDN Webcast: Business Data Catalog Overview | 6/1/2007 | Mike Benkovich | 62 |
| SharePoint 2007 for Developers | Web Parts and Workflows in SharePoint Server 2007 and Visual Studio | 6/8/2007 | Mike Benkovich | 61 |
| SharePoint 2007 for Developers | Sites and Templates in SharePoint Server 2007 and Visual Studio | 6/15/2007 | Mike Benkovich | 69 |
| SharePoint 2007 for Developers | SharePoint Server 2007 and Business Intelligence | 6/22/2007 | Mike Benkovich | 60 |
| SharePoint 2007 for Developers | Developing Windows SharePoint Services Workflows | 7/6/2007 | Mike Benkovich | 62 |
| SharePoint 2007 for Developers | Customizing SharePoint Server 2007 | 3/6/2008 | Mike Benkovich | 60 |
| SharePoint 2007 for Developers | SharePoint Server 2007 and Authentication | 3/13/2008 | Mike Benkovich | 60 |
| SharePoint 2007 for Developers | SharePoint Server 2007 and AJAX | 3/20/2008 | Mike Benkovich | 60 |
| SharePoint 2007 for Developers | SharePoint Server 2007 and Silverlight | 3/27/2008 | Mike Benkovich | 60 |
| SharePoint 2007 Fundamentals for Developers | SharePoint 2007 Fundamentals for Developers | 6/29/2010 | Sahil Malik | 449 |
| SharePoint 2007 Services Client Programming | SharePoint 2007 Services Client Programming | 7/5/2010 | Sahil Malik | 142 |
| SharePoint 2007 Tutorial for Site Administrators | SharePoint 2007 Tutorial for Site Administrators | 3/24/2010 | Janis Hall | 129 |
| SharePoint 2007: Business Services | SharePoint 2007: Business Services | 7/20/2010 | Matt Milner, Jon Fancey | 251 |
| SharePoint 2010 Administrator Ramp-Up – Part 1 | SharePoint 2010 Administrator Ramp-Up – Part 1 | 9/13/2012 | Ted Pattison | 124 |
| SharePoint 2010 Administrator Ramp-Up – Part 2 | SharePoint 2010 Administrator Ramp-Up – Part 2 | 9/13/2012 | Ted Pattison | 225 |
| SharePoint 2010 Administrator Ramp-Up – Part 3 | SharePoint 2010 Administrator Ramp-Up – Part 3 | 9/13/2012 | Ted Pattison | 36 |
| SharePoint 2010 Administrator Ramp-Up – Part 4 | SharePoint 2010 Administrator Ramp-Up – Part 4 | 9/13/2012 | Ted Pattison | 51 |
| SharePoint 2010 Administrator Ramp-Up – Part 5 | SharePoint 2010 Administrator Ramp-Up – Part 5 | 9/13/2012 | Ted Pattison | 90 |
| SharePoint 2010 Administrator Ramp-Up – Part 6 | SharePoint 2010 Administrator Ramp-Up – Part 6 | 9/13/2012 | Ted Pattison | 51 |
| SharePoint 2010 Administrator Ramp-Up – Part 7 | SharePoint 2010 Administrator Ramp-Up – Part 7 | 9/13/2012 | Ted Pattison | 80 |
| SharePoint 2010 Administrator Ramp-Up – Part 8 | SharePoint 2010 Administrator Ramp-Up – Part 8 | 9/13/2012 | Ted Pattison | 112 |
| SharePoint 2010 Basics | SharePoint 2010 Basics | 8/27/2010 | Sahil Malik | 108 |
| SharePoint 2010 Developer Ramp-Up – Part 1 | SharePoint 2010 Developer Ramp-Up – Part 1 | 9/13/2012 | Andrew Connell | 194 |
| SharePoint 2010 Developer Ramp-Up – Part 2 | SharePoint 2010 Developer Ramp-Up – Part 2 | 9/13/2012 | Ted Pattison | 195 |
| SharePoint 2010 Developer Ramp-Up – Part 3 | SharePoint 2010 Developer Ramp-Up – Part 3 | 9/13/2012 | Ted Pattison | 177 |
| SharePoint 2010 Developer Ramp-Up – Part 4 | SharePoint 2010 Developer Ramp-Up – Part 4 | 9/13/2012 | Andrew Connell | 172 |
| SharePoint 2010 Developer Ramp-Up – Part 5 | SharePoint 2010 Developer Ramp-Up – Part 5 | 9/13/2012 | Andrew Connell | 162 |
| SharePoint 2010 Developer Ramp-Up – Part 6 | SharePoint 2010 Developer Ramp-Up – Part 6 | 9/13/2012 | Ted Pattison | 122 |
| SharePoint 2010 Development | SharePoint 2010 Development | 9/24/2010 | Sahil Malik | 167 |
| SharePoint 2010 Document/Meeting Workspaces for End Users | SharePoint 2010 Document/Meeting Workspaces for End Users | 9/13/2012 | Wendy Henry | 51 |
| SharePoint 2010 for Developers | Getting Started with SharePoint 2010 | 11/9/2009 | Ted Pattison | 14 |
| SharePoint 2010 for Developers | Whats New in SharePoint 2010 | 11/9/2009 | Ted Pattison | 33 |
| SharePoint 2010 for Developers | SharePoint 2010 Development Primer | 11/9/2009 | Ted Pattison | 10 |
| SharePoint 2010 for Developers | New Developer Tools for SharePoint 2010 | 11/9/2009 | Ted Pattison | 15 |
| SharePoint 2010 for Developers | SharePoint 2010 Integration with PowerShell | 11/9/2009 | Ted Pattison | 20 |
| SharePoint 2010 for Developers | Introduction to VS2010 SharePoint Tools | 11/9/2009 | Ted Pattison | 9 |
| SharePoint 2010 for Developers | SharePoint Tools Project Structure | 11/9/2009 | Ted Pattison | 24 |
| SharePoint 2010 for Developers | Adding SPIs to a Project | 11/9/2009 | Ted Pattison | 24 |
| SharePoint 2010 for Developers | The SharePoint Fluent User Interface | 11/9/2009 | Ted Pattison | 9 |
| SharePoint 2010 for Developers | Sites as Collections of Pages | 11/9/2009 | Ted Pattison | 16 |
| SharePoint 2010 for Developers | Managing Data with SharePoint 2010 | 11/9/2009 | Ted Pattison | 12 |
| SharePoint 2010 for Developers | New and Improved Events | 11/9/2009 | Ted Pattison | 9 |
| SharePoint 2010 for Developers | List Relationships and Joins | 11/9/2009 | Ted Pattison | 11 |
| SharePoint 2010 for Developers | Large List Support | 11/9/2009 | Ted Pattison | 16 |
| SharePoint 2010 for Developers | Field and List Item Validation | 11/9/2009 | Ted Pattison | 2 |
| SharePoint 2010 for Developers | Accessing SharePoint List Data | 11/9/2009 | Ted Pattison | 15 |
| SharePoint 2010 for Developers | Overview of the Client Object Model | 11/9/2009 | Andrew Connell | 12 |
| SharePoint 2010 for Developers | Silverlight Client Object Model | 11/9/2009 | Andrew Connell | 9 |
| SharePoint 2010 for Developers | ECMAScript Client Object Model | 11/9/2009 | Andrew Connell | 8 |
| SharePoint 2010 for Developers | Whats New in SharePoint 2010 Workflow | 11/9/2009 | Ted Pattison | 14 |
| SharePoint 2010 for Developers | Designing Workflows with SPD | 11/9/2009 | Ted Pattison | 11 |
| SharePoint 2010 for Developers | Developing Workflows with VS 2010 | 11/9/2009 | Ted Pattison | 16 |
| SharePoint 2010 for Developers | Architectural and Logical Overview | 11/9/2009 | Ted Pattison | 19 |
| SharePoint 2010 for Developers | Creating Custom Service Applications | 11/9/2009 | Ted Pattison | 37 |
| SharePoint 2010 for Developers | Business Connectivity Services (BCS) Primer | 11/9/2009 | Andrew Connell | 14 |
| SharePoint 2010 for Developers | Creating BCS Applications | 11/9/2009 | Andrew Connell | 8 |
| SharePoint 2010 for Developers | ECM and Enterprise Metadata | 11/9/2009 | Andrew Connell | 21 |
| SharePoint 2010 for Developers | Advanced Routing and Document Sets | 11/9/2009 | Andrew Connell | 14 |
| SharePoint 2010 for Developers | In Place Records Management | 11/9/2009 | Andrew Connell | 3 |
| SharePoint 2010 for Developers | The Connector Framework | 11/9/2009 | Andrew Connell | 8 |
| SharePoint 2010 for Developers | Enhancing the Search User Interface | 11/9/2009 | Andrew Connell | 2 |
| SharePoint 2010 for Developers | Creating Custom Ranking Models | 11/9/2009 | Andrew Connell | 2 |
| SharePoint 2010 for Developers | Performance Point Services | 11/9/2009 | Chris Predeek | 12 |
| SharePoint 2010 for Developers | Introducing Sandboxed Solutions | 11/9/2009 | Andrew Connell | 15 |
| SharePoint 2010 for Developers | Executing Code in the Sandbox | 11/9/2009 | Andrew Connell | 12 |
| SharePoint 2010 for Developers | Introduction to Claims based Security | 11/9/2009 | Ted Pattison | 24 |
| SharePoint 2010 for Developers | Business Intelligence (BI) Primer | 11/9/2009 | Chris Predeek | 12 |
| SharePoint 2010 for Developers | Excel Services | 11/9/2009 | Chris Predeek | 11 |
| SharePoint 2010 for Developers | PerformacePoint Services | 11/9/2009 | Chris Predeek | 12 |
| SharePoint 2010 for Developers | SharePoint 2010 Design Considerations | 11/9/2009 | Ted Pattison | 11 |
| SharePoint 2010 for Developers | SharePoint 2010 Testing And Deployment | 11/9/2009 | Ted Pattison | 12 |
| SharePoint 2010 for Developers | Feature Upgrade Enhancements | 11/9/2009 | Ted Pattison | 14 |
| SharePoint 2010 for Developers | Solution Deployment Options | 11/9/2009 | Ted Pattison | 7 |
| SharePoint 2010 for Developers | Upgrading Projects to 2010 | 11/9/2009 | Ted Pattison | 6 |
| SharePoint 2010 for Developers | Upgrading VseWss Projects | 11/9/2009 | Ted Pattison | 4 |
| SharePoint 2010 for Web Designers – Part 1, Fundamentals | SharePoint 2010 for Web Designers – Part 1, Fundamentals | 9/13/2012 | Ted Pattison | 71 |
| SharePoint 2010 for Web Designers – Part 2, Site Design | SharePoint 2010 for Web Designers – Part 2, Site Design | 10/2/2012 | Ted Pattison | 138 |
| SharePoint 2010 for Web Designers – Part 3, Master Pages | SharePoint 2010 for Web Designers – Part 3, Master Pages | 9/13/2012 | Ted Pattison | 151 |
| SharePoint 2010 for Web Designers – Part 4, Branding | SharePoint 2010 for Web Designers – Part 4, Branding | 9/13/2012 | Ted Pattison | 156 |
| SharePoint 2010 for Web Designers – Part 5, Advanced Branding | SharePoint 2010 for Web Designers – Part 5, Advanced Branding | 9/13/2012 | Ted Pattison | 302 |
| SharePoint 2010 Fundamentals | SharePoint 2010 Fundamentals | 2/21/2011 | Rob Windsor | 251 |
| SharePoint 2010 Introduction for End Users | SharePoint 2010 Introduction for End Users | 9/13/2012 | Wendy Henry | 56 |
| SharePoint 2010 Lists & Libraries for End Users | SharePoint 2010 Lists & Libraries for End Users | 9/13/2012 | Wendy Henry | 119 |
| SharePoint 2010 Lists and Libraries for Developers | SharePoint 2010 Lists and Libraries for Developers | 7/18/2011 | Rob Windsor | 237 |
| SharePoint 2010 Managing Sites & Site Collections | SharePoint 2010 Managing Sites & Site Collections | 9/13/2012 | Wendy Henry | 334 |
| SharePoint 2010 No-Code Customizations for Power Users | SharePoint 2010 No-Code Customizations for Power Users | 9/13/2012 | Andrew Connell | 342 |
| SharePoint 2010 Personalizing SharePoint for End Users | SharePoint 2010 Personalizing SharePoint for End Users | 9/13/2012 | Wendy Henry | 66 |
| SharePoint 2010 Security | SharePoint 2010 Security | 10/5/2011 | Sahil Malik | 69 |
| SharePoint 2010 Security Part 2 | SharePoint 2010 Security Part 2 | 5/8/2012 | Sahil Malik | 109 |
| SharePoint 2010 Social Networking for End Users | SharePoint 2010 Social Networking for End Users | 9/13/2012 | Wendy Henry | 63 |
| SharePoint 2013 Business Connectivity Services Fundamentals | SharePoint 2013 Business Connectivity Services Fundamentals | 3/27/2013 | Scot Hillier | 169 |
| SharePoint 2013 Developer Ramp-Up – Part 1 | SharePoint 2013 Developer Ramp-Up – Part 1 | 11/5/2012 | Andrew Connell | 97 |
| SharePoint 2013 Developer Ramp-Up – Part 2 | SharePoint 2013 Developer Ramp-Up – Part 2 | 11/5/2012 | Andrew Connell | 113 |
| SharePoint 2013 Developer Ramp-Up – Part 3 | SharePoint 2013 Developer Ramp-Up – Part 3 | 11/5/2012 | Andrew Connell | 147 |
| SharePoint 2013 Developer Ramp-Up – Part 4 | SharePoint 2013 Developer Ramp-Up – Part 4 | 11/5/2012 | Andrew Connell | 56 |
| SharePoint 2013 Developer Ramp-Up – Part 5 | SharePoint 2013 Developer Ramp-Up – Part 5 | 11/5/2012 | Andrew Connell | 160 |
| SharePoint 2013 Developer Ramp-Up – Part 6 | SharePoint 2013 Developer Ramp-Up – Part 6 | 11/5/2012 | Andrew Connell | 193 |
| SharePoint 2013 Development: Client Object Model and REST API | SharePoint 2013 Development: Client Object Model and REST API | 5/28/2013 | Rob Windsor | 401 |
| SharePoint 2013 Fundamentals | SharePoint 2013 Fundamentals | 11/7/2013 | Rob Windsor | 425 |
| SharePoint 2013 Fundamentals for Business Professionals | SharePoint 2013 Fundamentals for Business Professionals | 10/15/2013 | Diane McSorley | 203 |
| SharePoint 2013 PerformancePoint Services | SharePoint 2013 PerformancePoint Services | 1/16/2014 | Markus Ehrenmüller-Jensen | 91 |
| SharePoint 2013 Search Back To Front | SharePoint 2013 Search Back To Front | 8/8/2013 | Matthew McDermott | 219 |
| SharePoint 2013 Search Development | SharePoint 2013 Search Development | 7/30/2013 | Scot Hillier | 231 |
| SharePoint 2013 Workflow – Advanced Topics | SharePoint 2013 Workflow – Advanced Topics | 1/15/2014 | Andrew Connell | 218 |
| SharePoint 2013 Workflow – Fundamentals | SharePoint 2013 Workflow – Fundamentals | 6/21/2013 | Andrew Connell | 244 |
| SharePoint 2013 Workflow – Web Services | SharePoint 2013 Workflow – Web Services | 2/6/2014 | Andrew Connell | 197 |
| SharePoint at Work: Create a Task List | SharePoint at Work: Create a Task List | 10/28/2015 | Bill Kulterman | 88 |
| SharePoint at Work: Create and Manage a Document Library | SharePoint at Work: Create and Manage a Document Library | 8/14/2015 | Bill Kulterman | 89 |
| SharePoint at Work: Create Custom Lists | SharePoint at Work: Create Custom Lists | 9/14/2015 | Bill Kulterman | 93 |
| SharePoint at Work: Using and Creating Content Types | SharePoint at Work: Using and Creating Content Types | 11/16/2015 | Bill Kulterman | 106 |
| SharePoint Development with the CSOM and REST API | SharePoint Development with the CSOM and REST API | 9/24/2010 | Sahil Malik | 208 |
| SharePoint Server 2007 Administration: Advanced Features | SharePoint Server 2007 Administration: Advanced Features | 10/23/2007 | Benjamin Culbertson | 151 |
| SharePoint Server 2007 Administration: Configuration | SharePoint Server 2007 Administration: Configuration | 10/23/2008 | Benjamin Culbertson | 192 |
| SharePoint Server 2007 Administration: Getting Started | SharePoint Server 2007 Administration: Getting Started | 10/23/2007 | Benjamin Culbertson | 279 |
| SharePoint Server 2010 Administration (70-667) Part 1 | SharePoint Server 2010 Administration (70-667) Part 1 | 9/13/2011 | J. Peter Bruzzese | 234 |
| SharePoint Server 2010 Administration (70-667) Part 2 | SharePoint Server 2010 Administration (70-667) Part 2 | 9/13/2011 | J. Peter Bruzzese | 223 |
| SharePoint Server 2010 Administration (70-667) Part 3 | SharePoint Server 2010 Administration (70-667) Part 3 | 9/13/2011 | J. Peter Bruzzese | 229 |
| SharePoint Server 2010 Administration (70-667) Part 4 | SharePoint Server 2010 Administration (70-667) Part 4 | 9/13/2011 | J. Peter Bruzzese | 212 |
| SharePoint Server 2010 Design and Deployment (70-668) Part 1 | SharePoint Server 2010 Design and Deployment (70-668) Part 1 | 12/4/2012 | Eric Skaggs | 246 |
| SharePoint Server 2010 Design and Deployment (70-668) Part 2 | SharePoint Server 2010 Design and Deployment (70-668) Part 2 | 12/4/2012 | Eric Skaggs | 252 |
| SharePoint Server 2010 Design and Deployment (70-668) Part 3 | SharePoint Server 2010 Design and Deployment (70-668) Part 3 | 12/4/2012 | Eric Skaggs | 265 |
| SharePoint Server 2010 Development (70-573) Part 1 | SharePoint Server 2010 Development (70-573) Part 1 | 9/18/2011 | Eric Skaggs | 217 |
| SharePoint Server 2010 Development (70-573) Part 2 | SharePoint Server 2010 Development (70-573) Part 2 | 9/18/2011 | Eric Skaggs | 342 |
| SharePoint Server 2010 Development (70-573) Part 3 | SharePoint Server 2010 Development (70-573) Part 3 | 9/18/2011 | Eric Skaggs | 266 |
| SharePoint Server 2010 Development (70-573) Part 4 | SharePoint Server 2010 Development (70-573) Part 4 | 9/18/2011 | Eric Skaggs | 214 |
| SharePoint Server 2010 Integrate w/ Office 2010: Advanced | SharePoint Server 2010 Integrate w/ Office 2010: Advanced | 9/12/2012 | Bill Kulterman | 224 |
| SharePoint Server 2010 Integrate w/ Office 2010: Excel | SharePoint Server 2010 Integrate w/ Office 2010: Excel | 9/12/2012 | Bill Kulterman | 160 |
| SharePoint Server 2010 Integrate w/ Office 2010: Getting Started | SharePoint Server 2010 Integrate w/ Office 2010: Getting Started | 9/12/2012 | Heather Ackmann | 179 |
| SharePoint Server 2013 Administration | SharePoint Server 2013 Administration | 3/25/2013 | Bill Kulterman | 369 |
| SharePoint Server 2013 Advanced Solutions (70-332) Part 1 | SharePoint Server 2013 Advanced Solutions (70-332) Part 1 | 6/24/2013 | Jeff Adkin | 306 |
| SharePoint Server 2013 Advanced Solutions (70-332) Part 2 | SharePoint Server 2013 Advanced Solutions (70-332) Part 2 | 6/24/2013 | Jeff Adkin | 311 |
| SharePoint Server 2013 Advanced Solutions (70-332) Part 3 | SharePoint Server 2013 Advanced Solutions (70-332) Part 3 | 6/24/2013 | Jeff Adkin | 178 |
| SharePoint Server 2013 Core Solutions (70-331) Part 1 | SharePoint Server 2013 Core Solutions (70-331) Part 1 | 5/6/2013 | Christopher Harrison | 245 |
| SharePoint Server 2013 Core Solutions (70-331) Part 2 | SharePoint Server 2013 Core Solutions (70-331) Part 2 | 5/6/2013 | Christopher Harrison | 239 |
| SharePoint Server 2013 Core Solutions (70-331) Part 3 | SharePoint Server 2013 Core Solutions (70-331) Part 3 | 5/6/2013 | Christopher Harrison | 198 |
| SharePoint Server 2013 Monitoring and Troubleshooting | SharePoint Server 2013 Monitoring and Troubleshooting | 10/20/2014 | Tim Warner | 175 |
| SharePoint Server 2013 New Features | SharePoint Server 2013 New Features | 6/28/2013 | Bill Kulterman | 171 |
| SharePoint Web Part Development | SharePoint Web Part Development | 8/6/2012 | Rob Windsor | 202 |
| Understanding SharePoint 2013: Part 1 – Basics | Understanding SharePoint 2013: Part 1 – Basics | 3/5/2013 | Sahil Malik | 73 |
| Understanding SharePoint 2013: Part 2 – Behind the Scenes | Understanding SharePoint 2013: Part 2 – Behind the Scenes | 3/5/2013 | Sahil Malik | 92 |
| Understanding SharePoint 2013: Part 3 – Development Overview | Understanding SharePoint 2013: Part 3 – Development Overview | 3/5/2013 | Sahil Malik | 162 |
| Understanding SharePoint 2013: Part 4 – Conventional Development | Understanding SharePoint 2013: Part 4 – Conventional Development | 5/13/2013 | Sahil Malik | 221 |
| Understanding SharePoint 2013: Part 5 – REST and CSOM | Understanding SharePoint 2013: Part 5 – REST and CSOM | 5/22/2013 | Sahil Malik | 137 |
| Understanding SharePoint 2013: Part 6 – SharePoint Apps Basics | Understanding SharePoint 2013: Part 6 – SharePoint Apps Basics | 11/27/2013 | Sahil Malik | 198 |
| Using Microsoft Office 2013 with SharePoint Server | Using Microsoft Office 2013 with SharePoint Server | 10/25/2013 | Bill Kulterman | 122 |
| Using Windows PowerShell with SharePoint 2010 and SharePoint 2013 | Using Windows PowerShell with SharePoint 2010 and SharePoint 2013 | 7/12/2013 | Gary Lapointe | 287 |
| | | | Total | 22752 |
Related posts:
Related posts brought to you by Yet Another Related Posts Plugin.