Software Practices Video Tutorials – 275 Hours
Premium (Not Free) Video Tutorials
Free Video Tutorials & Free Tools
Here is a collection of over 275 hours of premium video tutorials on Software Practices by Pluralsight. In order to view the videos, you need to become a member of Pluralsight.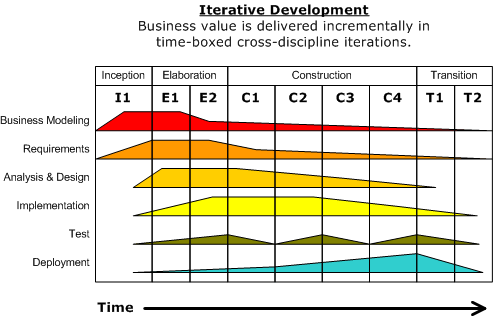 RUP phases and disciplines.
By Dutchguilder – Own work, Public Domain, https://commons.wikimedia.org/w/index.php?curid=37249677
Background: Software Practices should involve at least the following six best practices:
Develop iteratively
It is good to know all requirements beforehand; but this often does not happen. Several software development processes exist that deal with providing solution on how to minimize cost in terms of development phases.
Manage requirements
Always keep in mind the requirements set by users.
Use components
Breaking down an advanced project is not only suggested but unavoidable. This promotes ability to test individual components before they are integrated into a larger system. Also, code reuse is a big plus and can be accomplished more easily through the use of object-oriented programming.
Model visually
Use diagrams to represent all major components, users, and their interaction. "UML", short for Unified Modeling Language, is one tool that can be used to make this task more feasible.
Verify quality
Always make testing a major part of the project at any point of time. Testing becomes heavier as the project progresses but should be a constant factor in any software product creation.
Control changes
Many projects are created by many teams, sometimes in various locations, different platforms may be used, etc. As a result, it is essential to make sure that changes made to a system are synchronized and verified constantly.
Maintenance Factors
Impact of key adjustment factors on maintenance (sorted in order of maximum positive impact)
Maintenance Factors
Plus Range
Maintenance specialists 35%
High staff experience 34%
Table-driven variables and data 33%
Low complexity of base code 32%
Y2K and special search engines 30%
Code restructuring tools 29%
Re-engineering tools 27%
High level programming languages 25%
Reverse engineering tools 23%
Complexity analysis tools 20%
Defect tracking tools 20%
Y2K "mass update" specialists 20%
Automated change control tools 18%
Unpaid overtime 18%
Quality measurements 16%
Formal base code inspections 15%
Regression test libraries 15%
Excellent response time 12%
Annual training of > 10 days 12%
High management experience 12%
HELP desk automation 12%
No error prone modules 10%
On-line defect reporting 10%
Productivity measurements 8%
Excellent ease of use 7%
User satisfaction measurements 5%
High team morale 5%
Sum
503%
Not only are error-prone modules troublesome, but many other factors can degrade performance too. For example, very complex "spaghetti code" is quite difficult to maintain safely. A very common situation which often degrades performance is lack of suitable maintenance tools, such as defect tracking software, change management software, and test library software. Below describe some of the factors and the range of impact on software maintenance.
Impact of key adjustment factors on maintenance (sorted in order of maximum negative impact)
Maintenance Factors
Minus Range
Error prone modules -50%
Embedded variables and data -45%
Staff inexperience -40%
High code complexity -30%
No Y2K of special search engines -28%
Manual change control methods -27%
Low level programming languages -25%
No defect tracking tools -24%
No Y2K "mass update" specialists -22%
Poor ease of use -18%
No quality measurements -18%
No maintenance specialists -18%
Poor response time -16%
No code inspections -15%
No regression test libraries -15%
No help desk automation -15%
No on-line defect reporting -12%
Management inexperience -15%
No code restructuring tools -10%
No annual training -10%
No reengineering tools -10%
No reverse-engineering tools -10%
No complexity analysis tools -10%
No productivity measurements -7%
Poor team morale -6%
No user satisfaction measurements -4%
No unpaid overtime 0%
Sum
-500%
From: "The Economics Of Software Maintenance In The Twenty First Century" (PDF). Retrieved 2013-12-02. http://www.compaid.com/caiinternet/ezine/capersjones-maintenance.pdf
Software Practices
Related posts:
Related posts brought to you by Yet Another Related Posts Plugin.